The Mural I painted in San Francisco's Mission District, Balmy Alley, entitled "New Dawn" is being used by the New York Times in an ad campaign aimed at the "Bay Area". So it's up on billboards in the BART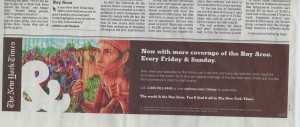 and MUNI on the platforms and in the trains. Thanks to the folks who have sent photos so far!
Oh yeah and it's in the actual news paper also. Keep an eye out people!